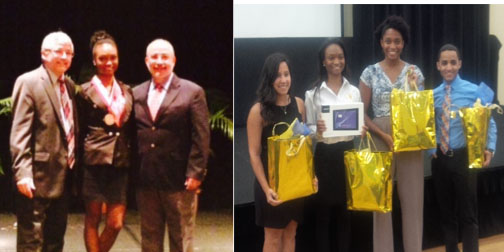 Valencia Watson was awarded FIRST PLACE for oral presentations of her work "Fluorescent Image Processing: Quantifying fluorescence to analyze the role of cysteine proteases in breast cancer cells" at the Summer Undergraduate Research Experience (SURE) at Georgia Tech, and at the Ana G. Mendez University System (AGMUS) Research Symposium.
Her research focused on analyzing the effectiveness of the image processing software CellProfiler in measuring the fluorescence of MDA-MB-231 breast cancer cells. She applied this same image processing technique to analyze the transfection efficiency of GFP transfected cells.
The SURE program is a 10 week summer undergraduate research experience at Georgia Tech. Fifteen students from various schools around the country spent their summer doing research in labs, and presented their final project at the end of the program. Valencia was awarded first place for her oral presentation.
AGMUS is a research symposium designed for undergraduate and graduate students to present their research in competition. The 2014 symposium was held on Saturday August 30, 2014 in the Sheraton Puerto Rico Hotel and Casino Convention Center in San Juan, Puerto Rico. Awards were given to those students who best presented their research for either oral or poster presentations. Valencia won first place overall for oral presentations.